You know, that quote about the future already being here. I saw a tweet at the end of last year about an airport in Helsinki that had already gone 5G replete with welcoming robots. All this progress in various stages of 5G planning, rollout, development, and, well, freakout (conversations we were having in back channels) prompted me to wonder if the time was right to revisit the idea of launching a "5G Adoption Council."  The market conditions were  similar.  At least here in the U.S., they were very similar.
A heck of a lot of change is coming fast to the Enterprise and all I see out there are vendors and high paid experts driving the conversation on what customers should be doing.  Large enterprises can benefit now by sharing notes and intelligence at this early stage of technology transformation.
World's first #5G airport Helsinki gets 5G robot to help travelers and staff@Finavia @nokia @nokianetworks https://t.co/mDjmdmabva pic.twitter.com/hk0kesqXPr

— Telia Company (@TeliaCompany) December 3, 2018
There's no better way to learn how to innovate than to learn how to innovate together with your peers, across industries and geographies in a transparent and generous network of like-minded individuals who share  the same values.
If that sounds like fun and something interesting to you, and you work for a large enterprise of more than 10K employees, consider joining us.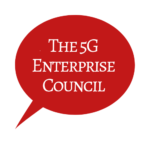 We started putting together a team of interested individuals. We're calling it The 5G Enterprise Council. You need to fill out this form to apply. But, that's it. We've got plans for a variety of programs and learning opportunities, especially for charter members.  If you were a member of The 2.0 Adoption Council, you will appreciate this new and improved Council. Imagine…  we will venture outside of the cloud for field trips!
Everyone says 5G is going to change everything. It is. But it won't change what happens when a group of people get together to enjoy each other's company and help each other grow.
Come grow with us into the future.