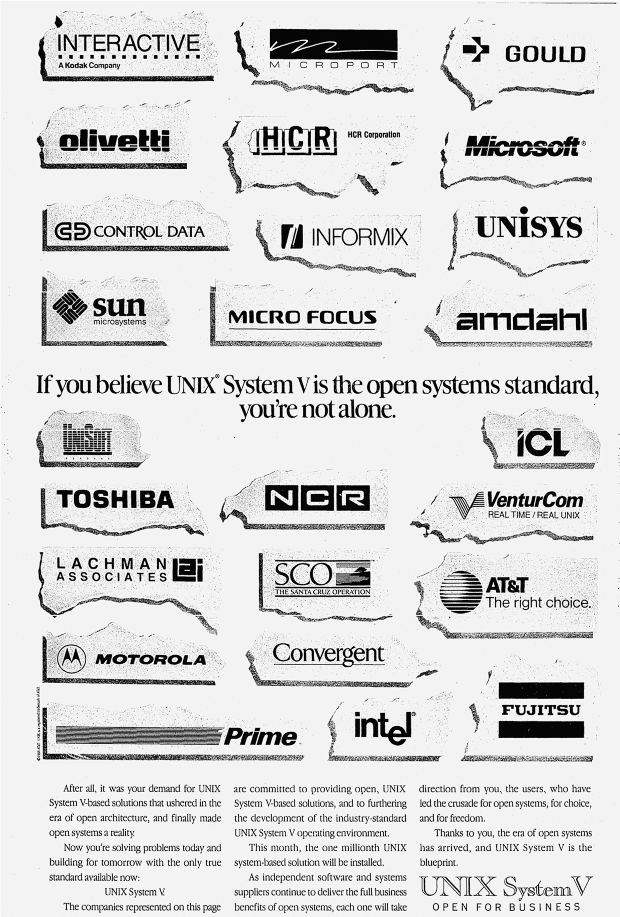 I've been cleaning out my closets and finding some real gems.  I came across my old ad portfolio a few days ago.
With all the increasing tension between transparency and privacy and the role of Internet freedoms, it's hard to believe there was once a time not too long ago that computers didn't "talk" to each other.  So-called "closed systems" enabled large manufacturers to secure unfair advantage in the market for hardware, software, and services.  Entire walled garden ecosystems surrounded the largest technology vendors in the world.  The UNIX operating system changed all that.  I remember when the  "UNIX Wars" cropped up when I was working with AT&T on the company's (ill-fated) foray into the computer market.  I was the liaison between the client, our account team, and our creatives at Ogilvy & Mather to explain the significance of UNIX to, well, the world. (Lucky me!)  I recall we had about a million dollar media budget (in '88 dollars) to brand AT&T's special version of UNIX: System V.
These were the days pre-Internet where influence and power had to be levied with massive spend.  AT&T could afford it at the time.  We ran this 1988 full-page ad in the Wall Street Journal, The New York Times, and the Washington Post to flex muscle in the negotiations AT&T was having with its ecosystem and to position it against its rivals.  There's a great narrative for all you deeply geeky readers on what happened behind the scenes by Christopher Kelty in his book, "Two Bigs – The Cultural Significance of Free Software."
I'm an avid Mad Men fan.  As I watch the series, I wonder if it will approach the period of time I was in advertising (the 80s). When I joined the advertising world, computer advertising was the #3 spending category.  IBM launched the PC in 1981 and it created a bonanza of new media spend for large agencies, as well as publishing media empires that seized the opportunity to track the industry and attract the newly minted print dollars.
Who remembers the thump of PC Magazine in its heyday?