There was something about SXSW that reminded me of trick-or-treating. It's an amazing opportunity to travel around in groups (in various costumes) and collect delicious bite-sized morsels of innovation. But it reminded me of something my (once) 3-year old son said after he flopped into bed after his first Halloween night, "Let's do that again tomorrow!"
SXSW is a once-a-year phenomenon, but a great harbinger of trends. Much of the conversation is about web-related design and measurement, politics, the social media revolution, and every-possible-thing-that-could-ever-be-possibly-said about Twitter. In the mix of fun and frolic, there were a couple gems that I picked out that would bring value to the enterprise.
Pepsicozeitgeist
One of the best, IMO, was Pepsi's sponsorship of the PepsiCo Zeitgeist Twitter Visualizer. This eye-candy visualizer was created by Amy Hoy and Thomas Fuchs, two Ruby on Rails/Javascript knighted heros and the brains behind Freckle and Twistori. Pepsi turned to NY digital strategy stealth firm Undercurrent to link its brand to SXSW. Pepsi had a number of initiatives at the show, but the zeitgeist effort was really interesting to me on a number of levels. Before I discuss how enterprise could make practical use of such a visualizer, I want to highlight how courageous it was for Pepsi to get behind the zeitgeist project. I spoke briefly to Pepsi's Josh Karpf, Manager Digital and Social Media and Bart Casabona, Sr. Manager, Communications/New Media about it. "It was a leap for us; it hadn't been done before," said Casabona. Jordan Berkowitz, Group Director at Undercurrent pointed out that when they designed the application, there was to be, "No filtering based on content." The PepsiCoSXSW team was integrated into the social media scene and knew there might be objectionable content broadcasting at the event and online, but wanted to create an authentic, digital experience with the Pepsi brand. Even though we were in bluedot Austin, where weird rules, it occurred to me a corporate brand like Pepsi had a lot at risk attaching its logo to random tweets. What I loved about that, however, was the giant brand was willing to move outside of its comfort zone. And the brilliance of the zeitgeist project is Pepsi integrated its brand into the customer experience of SXSW in an authentic and subtle way. "We're social media folks," said Karpf. In other words, they get it. Even though the community acknowledged Pepsi was behind the visualization, Karpf pointed out they were saying, "This is a brand, but it's still awesome."
The complete visualization can be seen in a series of one-minute videos on the Pepsicozeitgeist YouTube page.
For enterprises, it's easy to see how this live-pulse tracking visualization could be used during a large Enterprise event such as Oracle's OpenWorld or SAP's Sapphire and ASUG events (providing, of course, everyone was a faithful Twitter user). But even beyond live events, the visualization could be customized to monitor conversations among key customers and fed to field sales forces. The location-based data could provide some very interesting G2 for key accounts. HR and internal communications groups could use the visualizer to monitor employee sentiment, as well. The uses go on and on. Worthy of some exploration.
Apture
Another impressive tool was Apture. I ran into CEO Tristan Harris at one of the sessions. Harris himself impressed me because he pitched me while waiting in line from his iPhone. He had his demo-to-go all queued up (presumably, in case he ran into, say, a reporter). In the blogger's lounge, I signed up. I had a little trouble signing onto the demo with Apture because I don't manage my own blog server files, but it seemed easy enough to install once you got past that hurdle. Apture is a free blogging tool that lets you instantly find any type of media and link them in-place. It's used by the Washington Post, BBC News, and since SXSW, The New York Times. I see an enormous potential for this product inside the enterprise… again, providing we can get the Enterprise onto collaborative 2.0 platforms.
Check out Apture's Twitter demo.
iStockPhoto
I also really appreciated a discussion I had with Marketing Manager, Yvonne Beyer, at iStockphoto.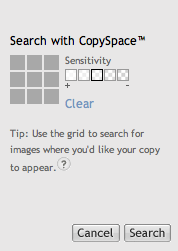 Here's a tip for iStockphoto fans: CopySpace (TM). Check it out under Advanced Search. It enables you to "grid" your search by the area where you need room for copy on an image. GREAT tool for those large image slides. Not sure everyone is using iStockphoto in the enterprise, but you should definitely add this to your DIY toolkit. Some quick stats on iStockphoto include the company adds 40,000 new images and other media products a week that are vetted by 100 inspectors around the world. It has paid over $1.1M in royalties to artists, and many members of their community are making more than six figures with iStockphoto. Not really a pure enterprise product, but a great service for business folks who want to create their own visuals coupled with a strong business model that depends on community.
Even though SXSW is in Austin, I'm debating on going next year. There really wasn't a lot of good enterprise content to be found. My plan is to liven up the Enterprise 2.0 conference (June, Boston), so we have a pseudo-sxsw of our own. I made a recommendation to the Advisory Board that we actively solicit sponsors for more parties and fun venues. Zoho sponsored a cruise a few years ago that was a lot of fun, for instance. Even though the sessions are always great, the best reason to attend events is to network in the traditional sense– meet and greet and share war stories face to face.
Hope to see you in Boston. Pack a lampshade.
UPDATE: Yvonne Beyer pinged me with a staggering correction: iStock pays out around 1.1 million in royalites a WEEK. She also added Lise Gagne from Montreal is one of the iStock contributors disclosing she makes 6 figures with well over 830,000 downloads to date. www.istockphoto.com/lisegagne