The recent acquisition of Headshift by the Dachis Group was largely celebrated in the e2.0 community. As I commented for RWW, it's a testament to a growing, maturing market. Enterprise interest in incorporating 2.0 tools and practices has never been higher. With this stage of evolution comes the good stuff, the fact-based data that helps guide our understanding of where we are, what it takes to get this right, who's behind Enterprise 2.0 initiatives, what expectations are for business results, how much money will move through the market, etc.
I was really excited to see McKinsey's 2009 "How Companies are Benefiting from Web 2.0" report that came out this week. Having come from a large consulting background tracking the IT services sector, it's a raw indicator that the 2.0 phenomenon is about to break out of the echo chamber when the large consulting firms start paying attention. Some of our best contributors in the Council are large consulting firms who are rolling out their own initiatives, and I expect these firms will leverage this intelligence to build their own practices at some point. During the first evolution of the web, a whole host of IT services firms cropped up to take advantage of the promise of enterprise transformation via the web. Most of those firms fell flat in the dotcom meltdown bringing down investors, customers, employees, and the echo chamber. I did a huge research report that profiled who those companies were and what dynamics were driving that sector. What did succeed, royally, from that era is the undeniable impact electronic commerce brought to the consumer and enterprise sectors. Seeing "what could be" drove the vision of many of those early firms, and even if their dreams crumbled under the weight of their own ambition (and hubris), they were correct about identifying the potential of the Internet to radically change business.
So, we've moved from e-business to social business in a decade. While the hype factor is still a little deafening, I'm thrilled to announce we will be kicking off the first in-depth exploration into the 2.0 adoption phenomenon to bring some clarity to the maturing market sector. To conduct this research, I'm pleased to announce the Council has signed a strategic partnership with Carl Frappaolo and Dan Keldsen of Information Architected to conduct a qualitative research study on the dynamics surrounding 2.0 adoption, as well as quantitative data on our members relative to industry, professional profiles (titles, organization), budgets, and other data points that present a portrait of who the early adopters really are. I've done some preliminary inquiries on our Council members and have already discovered a number of surprising findings that I would not have predicted. For instance, budgets for 2.0 are a lot higher than I would have guessed (if at all even established).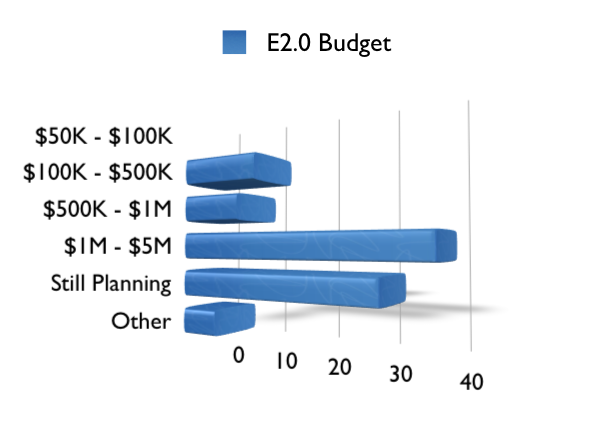 Other interesting findings reveal that IT is not driving many of the decisions to implement a wide-scale enterprise 2.0 initiative. Lines of business comprise the lion's share of our members.
One of the greatest goals for this research is to finally highlight salient case studies that explain the motivation behind the 2.0 effort as well as the expected business results.
For example, I conducted an interview this week with a very well known Wall Street investment bank. It was the audit and compliance global organization that drove an e20 solution to answer an age-old problem: high inefficiencies and underutilization. It's an impressive global rollout that incorporates 5 financial center locations with approximately 200 of the firm's subject matter experts in product, trading desk, regulatory, and banking. The initiative has yielded a "huge leap forward" according to the bank due to the transparency and visibility the firm has now as a result of breaking down the fiefdom walls that impeded the firm's progress in years past. Greatest challenge? The people issues. It forces employees to communicate more. Additionally, the new processes expose the weak links in the firm and threaten job security/relevance. Greatest benefit? The initiative answers to the Board of Directors and provides predictable, reliable reporting that mitigates risk and ensures regulatory compliance. I asked my contact if the effort played any role in the financial recovery of this particular firm, he said not really because this was purely a cost-containment effort, yet he added, "The platform should, however, allow [the firm] to be more nimble in the face of increased regulatory scrutiny. Management can now see the effects of re-allocating resources to review areas of the firm with a higher perceived risk."
All good stuff. There are so many exciting initiatives going on within the Council membership, I am thrilled to be able to bring them to light via our research. We will be presenting top-line findings of this research at the Enterprise 2.0 conference in San Francisco (Nov. 2 – 5). The Council has a number of initiatives going on at the conference, and I'll be blogging about them in the upcoming weeks.
If you are a customer in the throes of adoption and would like to participate in the research, please simply request to join The 2.0 Adoption Council. Membership is free and you will receive a tremendous return on your (non) investment.