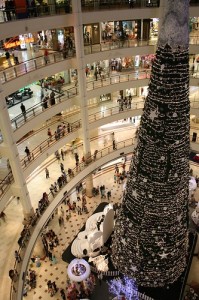 You know that feeling when you have to take a random trip to the mall and when you get there, the entire mall and every retail establishment has been magically transformed for the holiday shopping season?  Wow.  It's not even close to Thanksgiving, you think… But sure enough, you find yourself a little excited, a little sentimental, a little anxious about the fact that the holidays are upon us.  It's an emotional, a psychological reaction that launches a number of triggers that will ultimately lead to the consumer behavior the retailers are banking on.

That's how I felt the first day at SAP Tech Ed, SAP's annual education extravaganza.  I had never been to an SAP Tech Ed before, and wasn't sure what to expect.  In the first twenty minutes after I arrived at the newly renovated, cavernous Phoenix Convention Center, I started hearing the words collaboration, transparency, and social.  And it wasn't from the blogger's corner, I was hearing these words from SAP executives and customers.  The event was suddenly, surprisingly relevant to me in a way that I did not anticipate, nor that I was prepared for.  It was magical.

And similar to my experience visiting the mall and being greeted by a re-themed holiday shopping bonanza, the event launched a numbers of triggers for me.  The first trigger was excitement.  SAP gets it! I beamed to myself.  For so long, it appeared SAP corporate was just not interested in the Enterprise 2.0 agenda.  As recently as last SAPPHIRE (April), SAP's massive annual customer and partner event, I was grousing about the fact that 2.0 was all but completely absent on the agenda or the trade show floor.

The second trigger was anxiety.  At the same time as SAP TechEd, Oracle was holding its famed Oracle OpenWorld. Keeping a CPA eye on the tweet stream, it occurred to me that Oracle was "getting it" too.  As I write this, Microsoft is amassing its fan-adulating entourage in Las Vegas where it will announce the long-awaited SharePoint 2010 which has been predicted to be the e20 startup killer.  And, lastly IBM got this a long time ago which completes the MISO (Microsoft, IBM, SAP, and Oracle) four horsemen of the 2.0 apocalypse.  The combined market strength of the enterprise vendors to persuade and advance their particular offering signals an unmistakable step change in the heretofore teensy Enterprise 2.0 sector evolution.  The big boys are moving in with their big marketing budgets and massive sales organizations.  Not to be discounted either is Google whom unless you've been trapped floating above the earth in a homemade helium balloon, or hiding in an attic closet, you know has recently launched Google Wave: its impressive collaborative, real-time sharing platform.  The other one I suppose I shouldn't leave out is Cisco who've been re-tooling their go-to-market messaging around a fluid collaboration theme for months now.

Why does this tacit endorsement of e20 by the large enterprise vendors prompt my anxiety?  Because I'm concerned they'll dominate the discussion; maybe suppress innovation, dilute the passion that has historically fueled interest in e20.  It's hard to predict what the effects of mainstream promotion will be for e20, but one thing is for sure, e20 is about to bust out of the echo-chamber.
I started this post on the plane ride home from SAP's TechEd (USA) two weeks ago now.  Yesterday I was pre-briefed on Jive's new announcements coming with its SBS 4.0 platform.  Whatever real anxiety I felt about the big boys moving into the space has now been dissipated.
It takes a startup like Jive to inject innovation, creativity, passion, and excitement to this sector.  Jive is releasing a ground-breaking set of features that will set a new high bar for excellence in the category.  I'm certain the tech bloggers will cover the announcements in depth, but in brief, Jive is announcing an iPhone app (plus an email-driven enriched BlackBerry experience), very slick MS Office integration, and a bridging capability that will unite internal and external communities.  All this in addition to the series of announcements Jive made previously that include social media monitoring and a SharePoint connector.
What's significant about the Jive announcements is the company's commitment to releasing timely, innovative new capabilities in response to customer feedback and requests.  I'm here at JiveWorld, the company's first customer event.  From the energy circulating in the crowd here, it's obvious to me Jive is customer-driven and loyalty from Jive's customers handily delivers repeat revenue as well as product improvements.
Jive's ability to manage the books, pay careful attention to its user base, invest in educating its partners and employees, rationally identify its target market, as well as manage its growth effectively squarely positions the company uniquely from other startup competitors in the space.  Further, it accentuates the advantage startups have over the large enterprise vendors where releases are timed in years, not months.
So, as the e20 market twists and turns to accommodate innovation, advancement, and welcome step changes in attitude and strategic direction, one thing is guaranteed—all of this progress benefits customers.  Customers have a hard enough time getting this job done, so thank goodness, vendors like Jive are making it easy to accelerate adoption and experimentation with 2.0 tools and philosophies.