Jonah Hill is not a sexy guy.  He was perfectly cast, however, juxtaposed against Brad Pitt in this year's academy award contender, Moneyball.  If you've not read the book or seen the film, the plot premise centers on the true story of how an under-financed ball team, The Oakland As, leveraged the black art of sabermetric principles to divine a record-breaking season in professional baseball.  The true star of the film was Hill's character, Peter Brand (Paul DePodesta in real life), who brought a dweebish Ivy League blandness to the romance of American baseball by introducing, well, math. DePodesta was one of, "a new breed of front-office executives whose personnel decisions rely heavily on analysis of performance data, often at the perceived expense of more traditional methods of scouting and observation." (source Wikipedia).
Stripping out the emotion and the soft factors that tally up player value in baseball is analogous to what's going on today on the social web.  Everyone's got their eye on the superstar plays (say, the Old Spice guy, @comcastcares), but they're missing the raw analysis of true performance metrics.  Making sense of the nuanced patterns is the key to securing competitive advantage.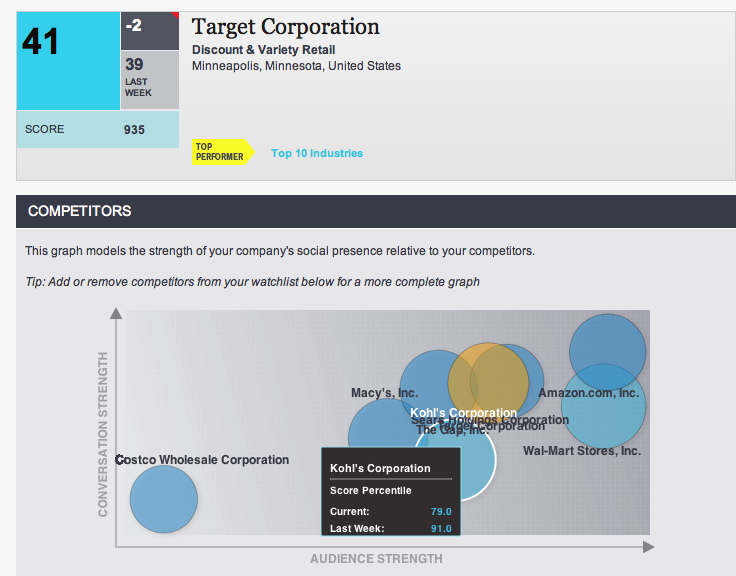 I saw the film this weekend and couldn't help making the connection between the film's premise and the Social Business platform we're building at Dachis Group.  We launched the Index publicly about three weeks ago.  The SBI is just a lightweight view on a monster social vacuum pulling social data from literally millions of sources about the leading brands in the world.  In order to unleash the power of the tool, you need to get in there, ensure your brand is pulling from all your social sources and start looking for significant patterns.  The social business data platform exists to help brand managers and interested brand marketers discover how social is impacting their brand performance.
We invite you to use this data to hone your social strategy.  As Forbes pointed out recently in its cover story, "Newly armed customer and employee activists can become the source of creativity, innovation and new ideas to take your company forward."  Harvesting those data sources is our job, but it's going to take a Peter Brand (Manager) to unlock what the data is telling you.  Relying on consistent, verifiable data analysis, you'll be able to make sensible predictions that can start delivering wins in the same way the A's racked up its record-breaking season.  Big data may not be sexy, but gaming the win potential is an irresistible seduction.
There are a host of extremely interesting services coming from the SBI development team.  Very soon, you'll be able to measure business outcomes framed by a distinct set of measures and metrics that are driving those outcomes.  With user-assigned metadata, you'll be able to view a variety of dimensions on those outcomes.   This is just a taste of what's in store.  Social data has the potential to become the long tail that wags the brand dog.  Make sure you're taking advantage of an early mover advantage, before your competitor does, that is.