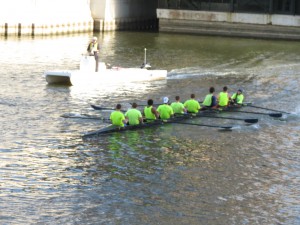 Announcing my new gig today! [Press Release]  I've accepted an offer to work for a gutsy startup with big plans: 7 Summits. Based out of Milwaukee and Chicago, this fast-growing team has been #killingit building award-winning Jive communities that succeed on a foundation of strategy and solid user experience to deliver clearly articulated business results.
I first heard about the firm via my friend and ex-Moxie (then, nGenera) colleague, Steve Elmore. Steve had recently taken a position there as VP, Social Business Strategy.  I've known Steve for a long while, and he's definitely one of the handful of my industry friends that sees the opportunity for social business through the same lens I do.  When Steve started telling me about the culture and vision driving 7Summits, I felt like it was kind of a dream come true for both of us if we could both be part of a team that shares our core social DNA.
While I was researching career opportunities in the market, I received a couple of other great offers.  But, during my evaluations, I kept coming back to 7Summits.  I ultimately made the decision on a short list of defining criteria:
Experienced Leadership that Executes with Rigor
7 Summits is exceptionally well-managed.  There is a mature and focused approach to goal-setting and performance that permeates every facet of the business. As a result, the company is on a strong trajectory of organic growth. The founders, Paul Stillmank and RJ Reimers, held executive positions at Manpower, Whittman-Hart, and Accenture and know how to scale a services business. The core focus on business direction, achievement, and results combined with a sincere intention to build a company culture with character and integrity at its core is refreshing and highly attractive.  One of the most impressive indicators for me was the outstanding reputation the company enjoys among the clients I surveyed.  Most especially because the company has done very little to elevate its brand.  In other words, the reputation was earned the hard way with performance vs. promotion.
A Culture Based on Shared Values of Openness and Inclusion
The company is run as a social business.  Content is openly shared on the company's internal Jive instance and daily stand ups occur to gauge how everyone in the company is doing.  Every voice matters and the company operates as a team. Culture is the single greatest asset to a services company. I learned this first hand in my experience covering the largest IT services players in the 90s.   During the interview process, I perceived a company culture based on group goals, a dedication to excellence, and a genuine concern for the customer. (Fantastic!)  My personal goal is to fit in seamlessly with the team and expose this tremendous esprit de corps to the outside world.  The company culture and story will be a magnet for customers, partners, investors, and talent for years to come.
A Platform for Social Business Advocacy
As a trusted advisor to its clients, the company matches passion about the promise of social business transformation with purpose and provides its clients a roadmap for how to achieve the promised results.  And the "soft" side of social does not get buried in the business of delivery.  In fact, "Enhancing people's lives" is part of the company's mission statement.  In other words, this is a company that gets it. Internal social, external social, and everything in-between.  It's the first dedicated firm in the U.S. I've come across whose business is centered exclusively on delivering social business solutions to every corner of the market: Marketing, IT, or any progressive business unit that wants to introduce social capability to operate more effectively.
In short, I look forward to introducing this company and the transformational work it is doing to my regular readers, fans, and friends of social business.  We will be heading to JiveWorld next week and I will be proud to participate in the fun programs the company has in place to galvanize the believers.  (Please let me know if you'll be there!) Additionally, the company is on a growth trajectory and is recruiting smart talent looking for a new home to exercise their passion for this work that we've all come to love.  I encourage you to apply for any of our open positions.  If I know you personally, make sure to drop me a note too, so I can add some texture to your application. You can reach me directly at susan.scrupski at 7summitsagency dot com.  And keep checking the job board.  New positions are going up all the time.
Onwards!