Finally getting around to publishing some thoughts from JiveWorld 2012.  Jive has always been a leader in pushing the hot buttons on social.  In the beginning, at JiveWorld's inaugural event, the theme was decidedly about educating the market to "think different" and ingrain a social orientation toward reinventing work and customer outreach.  The market actually needed a lot of hype to get some lift in the early days.  Jive set a high bar on energizing its early adopter customer base.
I wrote then, in 2009:
It takes a startup like Jive to inject innovation, creativity, passion, and excitement to this sector.  Jive is releasing a ground-breaking set of features that will set a new high bar for excellence in the category.  I'm certain the tech bloggers will cover the announcements in depth, but in brief, Jive is announcing an iPhone app (plus an email-driven enriched BlackBerry experience), very slick MS Office integration, and a bridging capability that will unite internal and external communities.  All this in addition to the series of announcements Jive made previously that include social media monitoring and a SharePoint connector.

What's significant about the Jive announcements is the company's commitment to releasing timely, innovative new capabilities in response to customer feedback and requests.  I'm here at JiveWorld, the company's first customer event.  From the energy circulating in the crowd here, it's obvious to me Jive is customer-driven and loyalty from Jive's customers handily delivers repeat revenue as well as product improvements.

Jive's ability to manage the books, pay careful attention to its user base, invest in educating its partners and employees, rationally identify its target market, as well as manage its growth effectively squarely positions the company uniquely from other startup competitors in the space.  Further, it accentuates the advantage startups have over the large enterprise vendors where releases are timed in years, not months.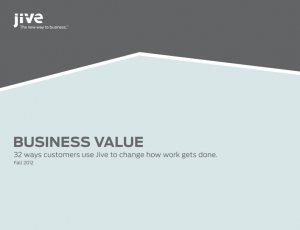 This year in 2012, now that Jive customers are relatively comfortable working in this new way, Jive is pushing customers further and helping them discover the business value buried in their organization that can be extracted.  It's kind of like fracking in the bedrock of the enterprise for stored value.  Chris Morace, Jive Chief Strategy Officer, calls it finding the "money laying around" in your organization when you start viewing your organization in a modern way and start using social technology strategically.  With the 6.0 release, the Jive platform itself is morphing into a dynamic institutional intelligence engine that "knows" you and can help you improve your job performance. This is the kind of education and innovation that marks the next stage of evolution in social business transformation. The company has published a guidebook for customers on Business Value with over two dozen specific examples of how Jive customers are realizing hard dollar savings, productivity gains, improved outcomes, and accelerated outcomes.
It occurred to me during the conference that Jive is the real deal on this and way ahead of the social brat pack of competitors pushing into the space.  In the end, it will be great to see all social platform vendors educating customers on where and how to apply social for business advantage, but so many of them are still where Jive was a few years ago relative to basic evangelism and market education.
Value case – Teletech
That said, I picked up on a case study that interested me from my fellow Enterprise Irregular compadre Esteban Kolsky's panel on "Approaching Customer Service from the Customer's Point of View."  It was a comment made during the opening remarks by panelist Lamont Exeter, Executive Director at TeleTech. He said that working socially had actually enabled the company to change a business process that led to a vast improvement in how they handle their escalation process on customer trouble tickets. Considering TeleTech is a the leading business process outsourcing provider of technology-enabled customer experience solutions, I found this to be not a trivial remark. For years, I've been pointing out that the opportunity in social is to improve outdated business processes that were originally designed for the industrial age. "Socializing" existing business processes will only get us partially to the potential results inherent in a true social business transformation.  This is exemplified in the TeleTech case.
I followed up later with Exeter, and he explained in detail the business process improvement he mentioned on the panel. A singular changed process resulted in several gains for a TeleTech client. In the old way of doing things, a customer would call with an issue. If a process or procedure change was required , the associate would send an email or manual spreadsheet report and a team leader would open up a ticket.  Then, IT  or a subject matter expert (SME) would either fix the issue and close the ticket or close a ticket without communicating the reason back to the associate.  It generally took about 5 days, on average, to move through trouble tickets and in neither case would feedback be provided to the associate who initiated the ticket. This resulted in associates feeling as though they were not "heard" or valued.
Now, with TeleTech's Iris community (powered by Jive), frontline employees can comment on a process and the SME is immediately notified – cutting out all those time-consuming steps.  The SME gets a notification from the frontline team and has 24 hours to reply. The official new time to resolution has been slashed to 17 hours and 43 minutes – a 567% decrease!  The process has a transparent gamification element that motivates employees to close out tickets as fast as possible too.  In addition,  the client cut eighty-eight percent of their ticket reworks because everyone sees the same problem and common answers are available on the community.  It's internal "crowd sourcing." The time saved on this resolution efficiency enabled the client  to reassign thirty-three percent of its staff to more productive work, further saving the client labor costs.  By changing this process, TeleTech increased customer satisfaction, saved on labor costs, and now has one of the most competitive low in-bound call volume records in its industry.
Another interesting aspect of the TeleTech case study is the deliberate integration of Jive with 8 different technology platforms including Bunchball (for gamification), leading CRM systems, a learning management system, an employee performance system, and a micro-learning tool.  This myth-busts the notion that all social platforms are islands of irrelevance.  The smartest companies are way ahead on the integration curve and weaving social into the corporate enterprise stack by clever use of API integration and other web services.
All told, the conference was great for all the right reasons.  It was pure pleasure to talk to Jive customers at our 7Summits booth on the exhibit floor, learn from the presenters, and indulge in the hyper-networking that goes on at industry events.  I look forward to continuing to expose the business value cases I'm uncovering with our clients.  Some of them, frankly, are blowing my mind.  For a better understanding of how 7Summits approaches unlocking the value in enterprise by retooling business processes for social, see this introductory presentation by R.J. Reimers.