Last week I attended a Data Science Summit at the University of Central Florida (UCF).  The day merged two of my favorite topics: Smart Cities and Data Science. It was the final event in a series held by the Southern Data Science Conference.
The event opened with a partnership announcement by longtime partner Siemens. The technology company committed to over $1 million in in-kind hardware, software, and expertise to build out capabilities to the UCF Smart Infrastructure Data Analytics Lab and will incorporate the existing Siemens' Digital Grid Lab.
"There's a definite synergy between buildings and the grid, as seen with energy becoming more decentralized and buildings assuming more of a prosumer role," said Mike Carlson, President of Siemens Digital Grid – North America. "The opportunity to take what we are already doing with UCF related to grid digitalization and combine supply and demand in coordination with technology for building automation will make this a benchmark program for Siemens."
Through the Smart Infrastructure Data Analytics Lab, Siemens will leverage data through machine learning, real-time analytics and artificial intelligence to help automate certain processes to be initiated by building systems whenever possible.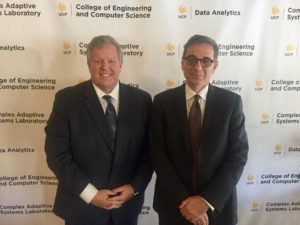 The UCF students and faculty will have the opportunity to experiment with various aspects of smart building infrastructure with real-world implications. For Siemens, the benefits are abundant in research, application, and ready-made talent pools.
UCF is known for its partnerships with industry. The relationship with Siemens goes back three decades, and has been a successful partnership resulting in Orlando's national reputation as a leader in sustainability.
In the fall of 2017, Siemens provided UCF with an in-kind grant of product lifecycle management software with a commercial value of $68 million, one of the the largest grants in university history.