I've often said that Ross Mayfield is one of the best 2.0 evangelists we have in the community. So, it's no surprise that Socialtext recently announced a wholesale makeover this week that not only defines the company as a thought leader in Enterprise 2.0, it launches the company into an entirely new category. Known universally in the 2.0 community as "the open source enterprise wiki company," Socialtext now crosses over to a robust, social collaborative platform player with a great deal of promise.
Socialtext 3.0 supplements its excellent wiki functionality with a Netvibes-like widgetized dashboard front end that enables individual users to personalize their enterprise interface with workspace updates, conversations (internal and public), user profiles (with LDAP and Active Directory integration), a new micro-blogging capability, RSS and life-streaming feeds, and drag-and-drop-ready external widgets. The renewed Socialtext offering is cleanly designed and offers a host of possibilities for small and large enterprises. In effect, Socialtext 3.0 has presented a "mashup palette" from which a user can customize his or her enterprise experience blending external seamlessly with internal.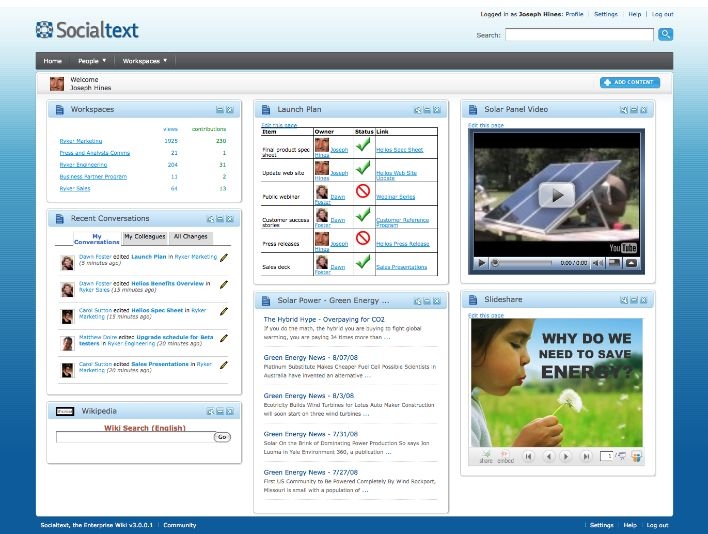 The new features/capabilities are offered as a trio of applications: an improved wiki, Socialtext People, and Socialtext Dashboard. Additionally, Socialtext announced its own enterprise micro-blogging interface, "Signals" which provides context-relevant secure social messaging. Read more on Ross' blog.
On our briefing yesterday with the Enterprise Irregulars, two major advantages for Socialtext stood out for me. The first was an extremely attractive pricing scenario. The price/seat with Socialtext is incomparable in the market with this much potential enterprise system integration and social functionality. The second was Socialtext's approach to targeting business process-oriented LOBs that are eager to embrace 2.0 tools where material improvements with collaboration and social networking are well understood. These two advantages, combined with the Socialtext heritage of thought leadership on all things enterprise 2.0 have positioned this company well going forward. With the recent addition of Alan Lepofsky who was IBM's senior strategist for Lotus and under its new CEO, Eugene Lee, I'm bullish on a Socialtext strong finish in a market that has become increasingly crowded.