Here is another great product in the "Recession-Ready 2.0 Stimulus Package" series on products that can help jump start the economy. Hutch Carpenter, whom I've come to admire and respect deeply for his insight into 2.0 adoption, recently gave me a heads up he was joining Spigit. Of course, I checked out Spigit's site and had an immediate reaction: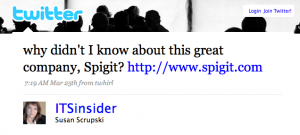 Somehow in my canvassing of the e2.0 universe, I missed this really cool company. I had a chance to see a demo last week with CEO, Paul Pluschkell and ask him some questions about the product and their journey.
Spigit is a beautifully designed "idea-based" social network for any size enterprise. What's uniquely interesting about Spigit is it is action-oriented: its sole purpose in the enterprise or within its external ecosystem of customers and suppliers is to generate good ideas that lead to better products, better usability, revenue-producing initiatives and/or cost savings recommendations. In fact, anything can be a good idea and you can virtually find it anywhere– inside the company or out. With Spigit, now you have a way to get support for a good idea and refine it further.
The company offers two basic platforms: one for internal idea generation, InnovationSpigit, and one that faces externally, IdeaSpigit, to reap good ideas from its external community of suppliers/partners/customers/fans, etc. Judging from the live demo I saw, the user interface on this product is gorgeous and has an addicting "game-like" quality to it that encourages adoption. For management, there are over one million different variables for tracking metrics and user behavior. Additionally, this is the first Enterprise 2.0 product platform I've seen that incorporates prediction markets technology, PredictionSpigit, (which Andrew McAfee is so fond of).
The good news on Spigit is a single great idea can deliver a mind-numbing ROI. The somewhat bad news is it's a little pricey. Enterprise licenses range from $25K for less than 1,000 people to $300K for over 100,000 people annually in a standard SaaS-based monthly pricing contract. If you want to host Spigit behind the firewall, that's also an option. But, it's probably the most expensive option, as you must buy the license in perpetuity. With each license, Spigit bundles in a dedicated community manager, a kickoff and training program, and a variety of helpful services that encourage adoption and promote meaningful results. Spigit received very favorable reviews from Bearing Point's Nate Nash who alerted me to this post.
Innovations on the horizon with Spigit include an iPhone app in the works and customizable widgets that can house the entire product which has already been sold to one large customer. Once customers "get it," the Spigit choice is easy. Companies prone to innovate and tout the people power of their workforce are eager to get into a relationship with Spigit. Marquee customers include IBM, Sun, Intel, Southwest Airlines, AAA, and Wal-Mart.  Additionally, Spigit has a major initiative underway to layer the product on top of SharePoint.
So think Digg, Dell's IdeaStorm, Innocentive, mashed and wrapped up in a customized, user-addicting collaborative social network (that also has reporting, analytics, and prediction markets) and you have Spigit, the wonder platform.
Kick me before I miss a product like this again.