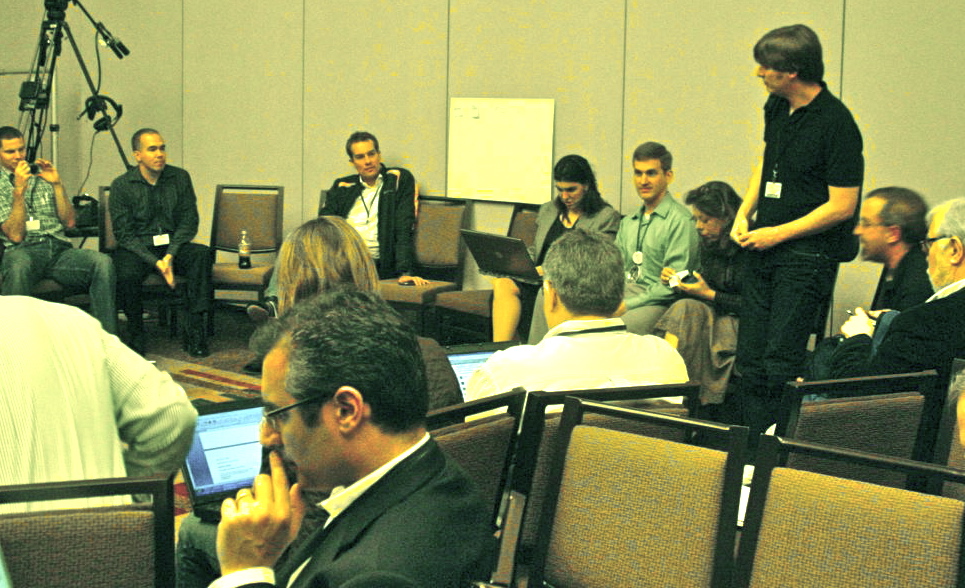 Yes, the baby was born in '06, started crawling in '07, and now is running around like a maniac with boundless energy in '09. The Enterprise 2.0 movement is now a healthy child, growing stronger and more willful every day (just a cabinet door away from getting into trouble…) I returned from the Enterprise 2.0 conference this week rejuvenated, as I'd hoped to.
The number UNO issue on the minds of this year's customer conference attendees was: HOW THE >>>> DO WE DO THIS??? Customers wanted to hear from other customers, not us (the so-called experts in Enterprise 2.0). The best sessions for me were definitely the unconference sessions where real practitioners could talk frankly about their challenges and share their successes.
Listening to customers during the conference, as well as culling the data that has been coming in from various surveys, I've decided the time is right to launch a community for "Internal 2.0 Evangelists." As I've been a 2.0 Evangelist for the broader sector (and I thought my job was difficult), I realized the job of the internal evangelist is far, far more difficult. These folks toggle between fighting the good fight every day and then slipping uneasily into a sort of DMZ where they can peek out into the broader community for support and the rejuvenation they need to go on fighting another day. It's often a thankless job with no clear roadmap for advancement, yet the majority of them do it because they believe in the principles of the 2.0 movement. I celebrate them!
So, that said, I've begun the 2.0 Adoption Council on LinkedIn. Once we reach a critical mass, we will be moving the Council to a more fluid socio-collaborative platform. If you are a customer of a large enterprise rolling out an enterprise 2.0 initiiative, you are invited to join the Council. Here is a LinkedIn invite I sent to some key customer contacts that explains the Council's mission and goals: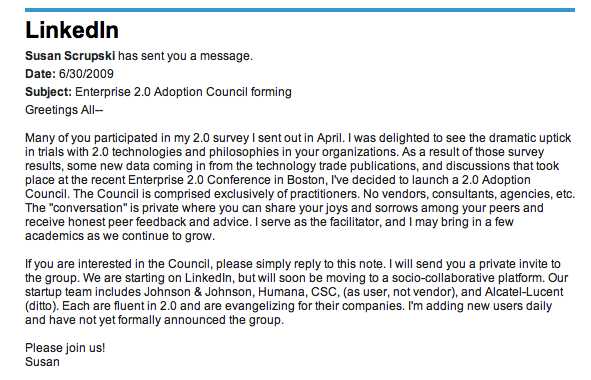 You can reach me on LinkedIn on my profile if we're not already connected. Send me a note you want to join, and I'll send you an invite. The Council is free; there are no strings attached. Andrew McAfee has joined the Council, as well as several prestigious global enterprises.