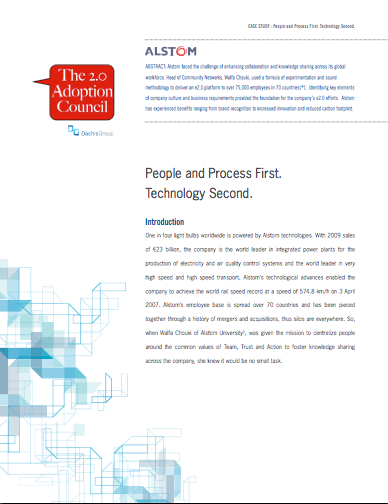 When we set out to investigate case studies, we were looking for "slam dunk" examples where 2.0 initiatives were inextricably tied to business results. In effect, we wanted to begin to dispel the criticisms that e20 was just the next silly, narcissistic exploit to enter the enterprise on the heels of yet another consumer fad: web 2.0.
Well?  We didn't find those "slam dunk" examples. But, neither did we find any "failures." What we did find was a massive movement shaking the bedrock of enterprise as we know it. The enterprise plates are still firmly in place, but our investigation revealed tremors– sudden energy being released among the employee population that is poised to crack the foundation of business as we've known it.
Time and time again we heard, "This is the most important initiative I've ever worked on in my professional life." There's something chilling, something inspiring about the people and companies who are leading the charge toward reinventing themselves to become socially savvy. As you read through these profiles and cases, you'll come to appreciate while all of these companies are still early in the process, they all are confident they will succeed in their long term goals.  Some are realizing early successes already.   The prevailing operational mission at present, however, is to succeed at catalyzing the "ideological reformation" at the root level of the organization that needs to take place before real business value can be extracted, measured, and fine-tuned.  It's a bit of a Catch-22, and almost as maddening and dangerous as originally described in the novel that coined the phrase.
We will continue to track the progress of these early adopters.  Regardless where you are in the spectrum, we all succeed when every case succeeds.  We'd like to thank IBM and MIT's Center for Digital Business for lending support and sponsorship to this series of cases and profiles. Special thanks to all @20adoption members who participated in the series.
Current profiles and cases are posted on The 2.0 Adoption Council web site.  Feel free to download at will.  We have a few more coming, as well.