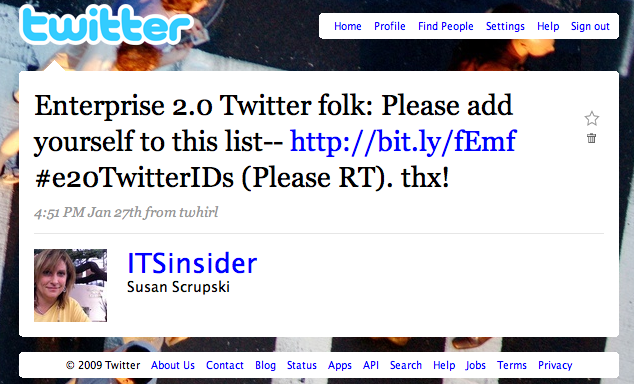 In the spirit of drawing the Enterprise 2.0 community together, I started a small experiment this week. On Tuesday late in the afternoon (Austin time), I set up an open Google spreadsheet to capture Twitter IDs for folks in the community who felt they associated with Enterprise 2.0. Within minutes, the spreadsheet was buzzing, popping, and humming with simultaneous edits being made from all over the world. Of course, the initial tweet was retweeted throughout various follower communities and social networks which led to a bit of a viral chaos. A few times we even had a complete breakdown in the spreadsheet where Google couldn't keep up with the simultaneous edits. At another time, someone had either inadvertently erased all the data, or maliciously erased all the data… in the end it didn't matter because someone else had made a copy and we quickly reverted to an earlier version. All of this happened in a one – two hour period, in different time zones. Within two hours, there were over 200 names on the list. Today, there are nearly 300 people who've added their information to the original list which contained 10 people. You can see it for yourself here.
The experiment was incredibly fun. So many people participated and truly enjoyed the process. It brought the community together, and I think everyone "met" or was introduced to another enterprise 2.0 community member they did not know about who is active on Twitter. Yesterday, a few of us started weighing different options to leverage this community in a deeper forum. I asked Ross Mayfield if he would volunteer a wiki workspace, and he graciously agreed. In the course of setting up the workspace, we discovered (who knew?) in order for folks to complete their profiles, they would have to be invited via email.
Email!? The anti-thesis of the Twitter community! So, with a lot of LOLs, Ross, Dion Hinchcliffe and I realized there are still things we are learning about Enterprise 2.0. The good news is, we all can learn together. Failure can be fun and leads to product improvements, not disaster.
Last week, I passed my third year anniversary on the ITSinsider blog. (Yay!) The spirit of worldwide cooperation and sharing still moves me in this space. This experience over the last few days reminds me of a 2006, great Q&A I did with Joe Kraus, who is now at Google. Kraus' vision for DIY computing is indeed coming true. These social bonds that are gluing our collaborative energies together are making it all the more interesting and the successes are celebrated universally.
The takeaway here is, don't be afraid to experiment. Don't be afraid to fail or embarrass yourself. We're still in the early days of reinventing "work."